2019 Annual Meeting and MV Medal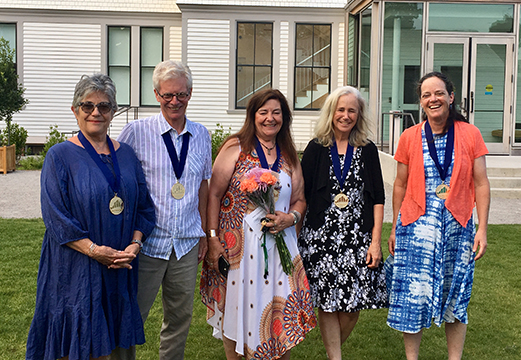 The Annual Meeting hosted July 29, 2019 reviewed the 2018 year, recognized the work of outgoing board members, and awarded the Martha's Vineyard Medal to leaders in the community to recognize their outstanding commitment to preserving the history, arts, and culture of Martha's Vineyard.
2019 Martha's Vineyard Medal Winners
The Team of Chilmark Chocolates
Presented by Berta Welch
Mary Beth Grady and Allison Burger are co-owners of Chilmark Chocolates, an Island mainstay. Their business model is unique: produce high-quality handmade chocolates and candy while employing and training people with disabilities. Both women met when they were counselors at Camp Jabberwocky more than three decades ago. They went onto become employees and eventual owners at Chilmark Chocolates constantly believing in every person's potential. Chilmark Chocolates has been a staple business for the Island community for years fully integrated into the Island community. It's rare to go to a non-profit fundraiser and not get a box of chocolates donated by Mary Beth and Allison. The Chilmark Chocolates motto in everything they do has been to give back. They will truly be missed when they close their doors at the end of the year.
Elaine Cawley Weintraub
Presented by Laurel Redington Whitaker
Elaine Cawley Weintraub is the co-founder of the Martha's Vineyard African American Heritage Trail. She was a history teacher at MVRHS for almost 30 years where, among many things, she helped her students create mural projects that commemorated important moments in Island history and created a "friendship breakfast" designed to provide Brazilian students coming into the school with a feeling of comfort as well as a way to share their culture with the rest of the student body. She is a sought-after source for Island history and Irish cultural history. Mrs. Weintraub is a captivating storyteller with a voice that draws you into the importance and detail of the stories. As co- founder of the MVAAHT, she has helped dedicate over 30 historic sites across the Island and continues to conduct tours herself throughout the busy summer season.
Lynne and Allen Whiting
Presented by Eileen Maley
Allen Whiting is a twelfth-generation Islander and splits his time farming and painting. He is known for capturing the true spirit of the Vineyard in his works and has often been referred to as the "Island's son." Mr. Whiting sells his paintings out of the Davis House in West Tisbury transforming his living room into an art gallery every summer. The Whitings have donated countless landscapes to a multitude of Island non-profits over the years and supported numerous community initiatives along the way. Mrs. Whiting began her career teaching at the Island Children School. She went on to work for MV Community Services on their Early Childhood Programs supervising Family Day Care providers and then taught at the West Tisbury and Chilmark Schools before joining the Museum in 2002 as its first Education Director. Mrs. Whiting has served on the Boards of the West Tisbury Library and MV Museum. She served as Vice Chairman of the West Tisbury Library Foundation and is currently Vice President of Island Grown Initiative. She also serves as a patient volunteer for Hospice of MV and volunteers at the new Museum.
Other Annual Meetings and Martha's Vineyard Medal Ceremonies