2017 Annual Meeting and MV Medal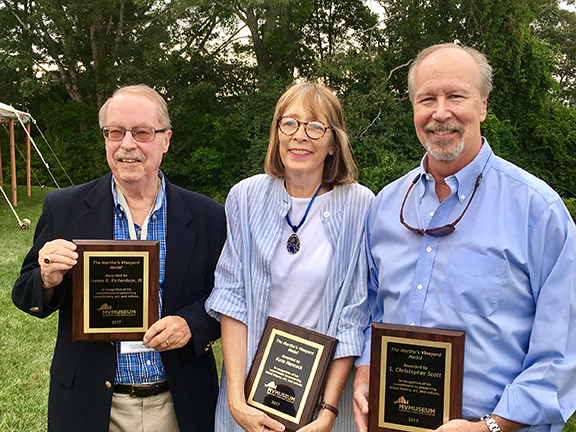 The Annual Meeting hosted August 14, 2017 reviewed the 2016 year, recognized the work of outgoing board members, and awarded the Martha's Vineyard Medal to leaders in the community to recognize their outstanding commitment to preserving the history, arts, and culture of Martha's Vineyard.
2017 Martha's Vineyard Medal Winners
Kate Hancock
Presented by Ann Smith
Kate Hancock has been active in the Martha's Vineyard arts scene for decades. She currently serves as Gallery Manager at Featherstone Center for the Arts. She has served as a theater stage manager and production supervisor for over 35 years, many of them at the Vineyard Playhouse and MVRHS, and has starred in a number of shows. Kate has written scripts and lyrics for dozens of plays and musicals for children. She has also written several pieces for adult audiences including two plays, and composed the lyrics for Lighthouse Point, a book by East Chop resident Rick Herrick that became a play. Kate is the author of Windswept, a novel that tells the story of a farmer on Chappaquiddick.
Kate was a fourth and fifth grade teacher for sixteen years and has taken her love of education to the Martha's Vineyard Museum. She can turn a primary source document on Grey's Raid during the American Revolution into a riveting piece of dramatic storytelling, inspiring third graders to create murals, puppet shows, and illustrated story books. Few people know that Kate is also a time traveler from the late 1700's. When asked, she will don her own colonial mob cab, blouse, and calico skirt and serve as Temple Cook to an enthralled audience of Island school children. Kate is also a docent in the Museum Conversations Outreach Program, which presents and curates programs for a number of Island senior centers monthly.
James B. Richardson, III (Jim)
Presented by Bonnie Stacy
James B. Richardson, III is the Curator Emeritus of Anthropology at Carnegie Museum of Natural History and Professor Emeritus of Anthropology at the University of Pittsburgh. He has participated in or directed prehistoric and historic archaeological investigations around the world including many on Martha's Vineyard and focused on maritime adaptation and climate change. Jim served as interim director of Carnegie Museum and has served on the Board of the Heinz History Center and the Peabody Museum. He has been associated with the Martha's Vineyard Museum since the 1940's and worked with Gale Huntington as a teenager. His family has been coming to the Vineyard since the 1840's and his family built the Lawton cottage, the first wooden cottage in the campgrounds. Jim has served on the Museum Board and as Chair of the Collections Committee for a number of years while summering in East Chop. He is currently involved on the Museum's project planning committee for its move to Vineyard Haven and on the exhibit design committee for the new museum.
S. Christopher Scott
Presented by Robert Cox
Christopher Scott is the retired Executive Director of the MV Preservation Trust, a position he held for 25 years. He has more than 35 years of professional experience in the funding, design and implementation of major preservation projects. He was affiliated with the MA Dept. of Environmental Management for 10 years where he restored 20 public parks. He also participated in the restoration of Boston's Faneuil Hall Marketplace. Chris served on the MV Bass and Bluefish Derby Committee and the Edgartown Library Building Committee. He is a former board member of the VNA, and is Treasurer of the MV Scottish Society. Although newly retired, Chris is still actively involved in the Preservation Trust's plans to renovate the former Carnegie Library and turn it into a visitor and heritage center.
Other Annual Meetings and Martha's Vineyard Medal Ceremonies