East Chop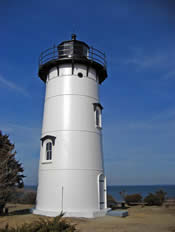 Telegraph Hill
Address: 229 East Chop Avenue, Oak Bluffs
The East Chop Lighthouse is typically open seasonally on Sunday evenings around sunset. A lighthouse keeper will be available and the doors will be open during designated hours. Parking is available, but limited, on East Chop Drive. The Vineyard Transit Authority (VTA) busses will stop at the intersection of East Chop Drive and New York Avenue, but you must walk up the hill to the lighthouse.
Read the Martha's Vineyard Magazine's "Illuminating Lighthouses" for more on the historical and cultural significance of the light
2022 SCHEDULE
The lighthouse will remain closed for the 2022 season due to lead abatement work. We look forward to welcoming visitors back into the lighthouse when it is safe to do so.