Lighthouses
The Martha's Vineyard Museum is privileged to be the steward of two of the Island's lighthouses. The East Chop and Edgartown Lighthouses are not only historic reminders of a bygone age, but are working beacons that still send a light out into the night. Beyond their important functional role, these structures also offer visitors spectacular views of the breathtaking beauty of Vineyard Sound and the simple elegance of Edgartown Harbor & Chappaquiddick.
Read the Martha's Vineyard Magazine's "Illuminating Lighthouses" for more information
Museum Stewardship
As the steward of these lighthouses, the Martha's Vineyard Museum is raising money to maintain these functioning historic beacons. Admission and rental fees are used to help offset the costs of maintaining these structures. The MVM also encourages donations from the public to help renovate when necessary. If you are interested to donating money to the Museum's efforts to preserve the lighthouses, please consult the Support Page for more information. Or, contact the Director of Development Heather Seger at 508-627-4441 x121.
Ray Ellis Limited Edition Lighthouse Prints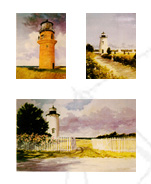 One of the Island's best-known watercolor artists, Ray Ellis, has created images to benefit our stewardship. The Museum is selling signed copies of three Limited Edition watercolors, one of each of our lighthouses. Prints are available framed ($595) or unframed ($250).
Please stop by the Museum or call 508-627-4441 x110 to order.
CAPE POGE, GAY HEAD, AND WEST CHOP LIGHTHOUSES
For information on the Cape Poge Lighthouse, visit the Trustees of Reservations website. The Gay Head Lighthouse is managed by the town of Aquinnah. The West Chop Lighthouse is privately owned and not open to the public.